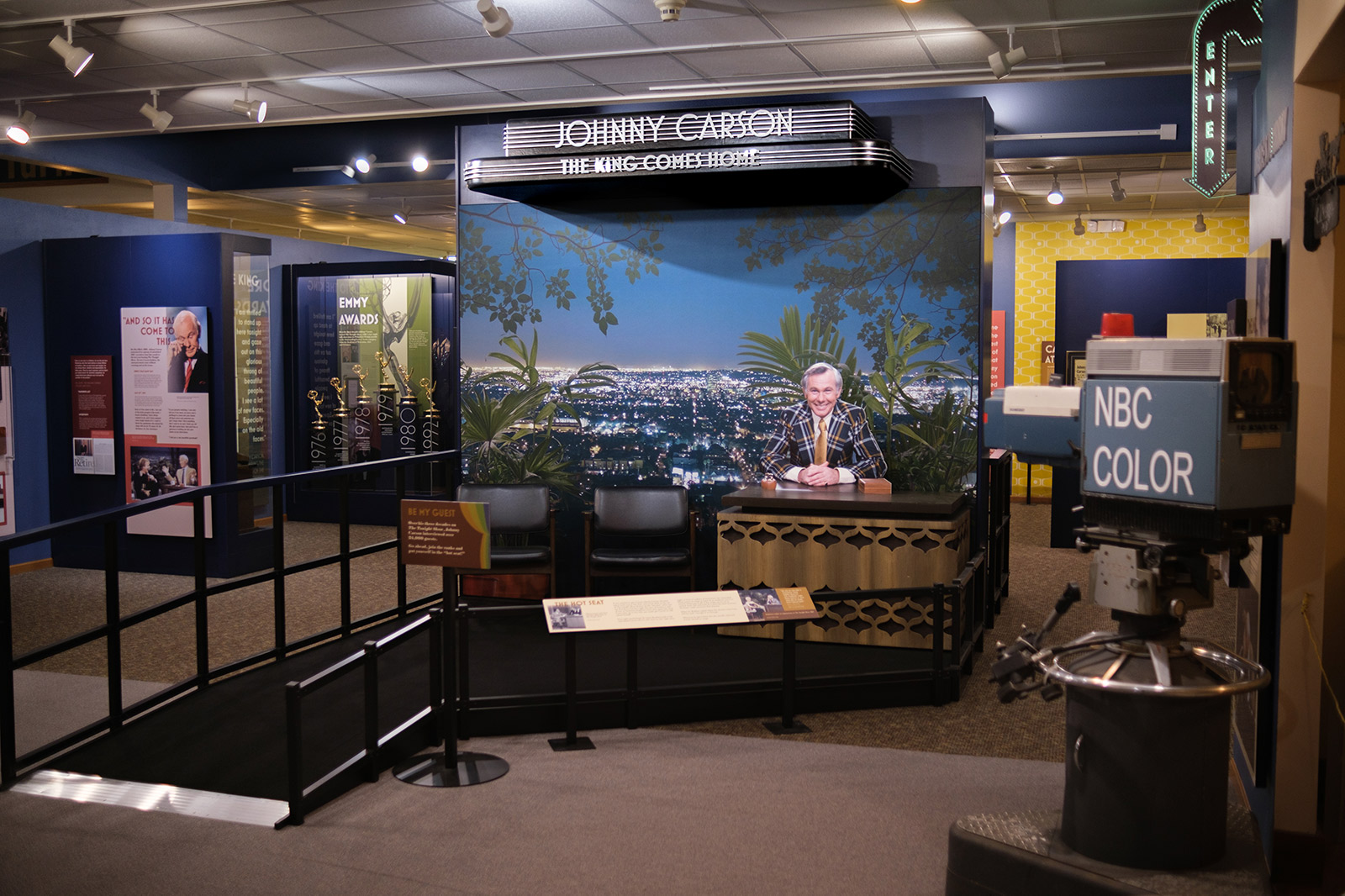 Johnny Carson: The King Comes Home
Norfolk, Nebraska
Johnny Carson led an uncommon life. From humble beginnings in his hometown of Norfolk, Nebraska to the bright lights of Hollywood, this exhibit celebrates the King of Late Night.
We were tasked with telling a complex story in Carson's beloved hometown. The exhibit recalls Carson's fame and his time in front of the curtain, but also provides a closer look at his life behind it.
---
The exhibit design is bold and inviting. A vibrant retro color palette against a backdrop of rich navy blue draws visitors in.
As does the illuminated entry sign:
Take a seat with the King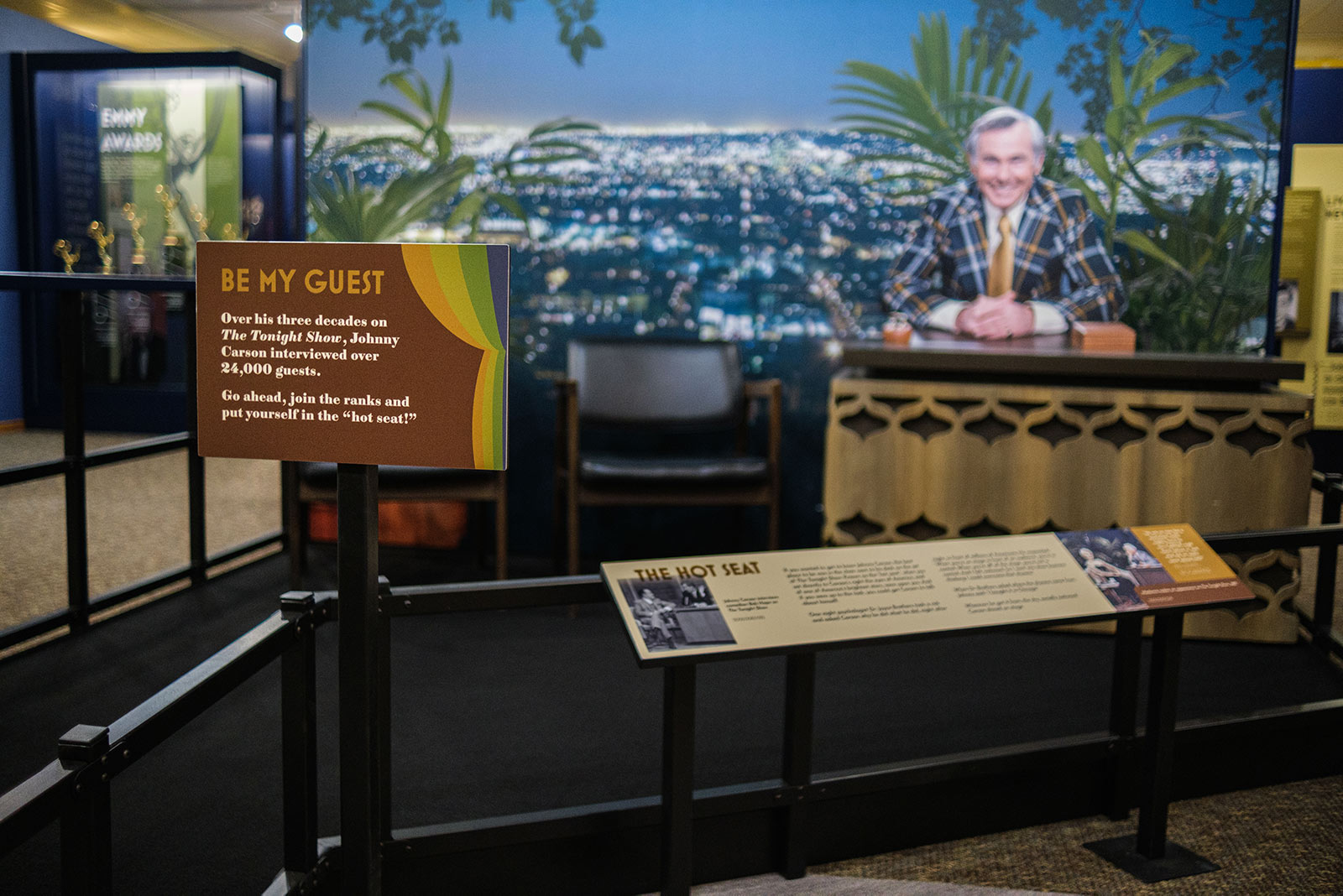 Upon entering the exhibit, visitors can opt to take the stage with Johnny and snap a selfie to share. The large backdrop is reminicent of his time in Burbank.
A Shared Experience
---
Millions of American families spent their evenings with Carson, across decades.
A recreation 1960's living room invites you in to the experience fondly remembered by long-time Carson fans.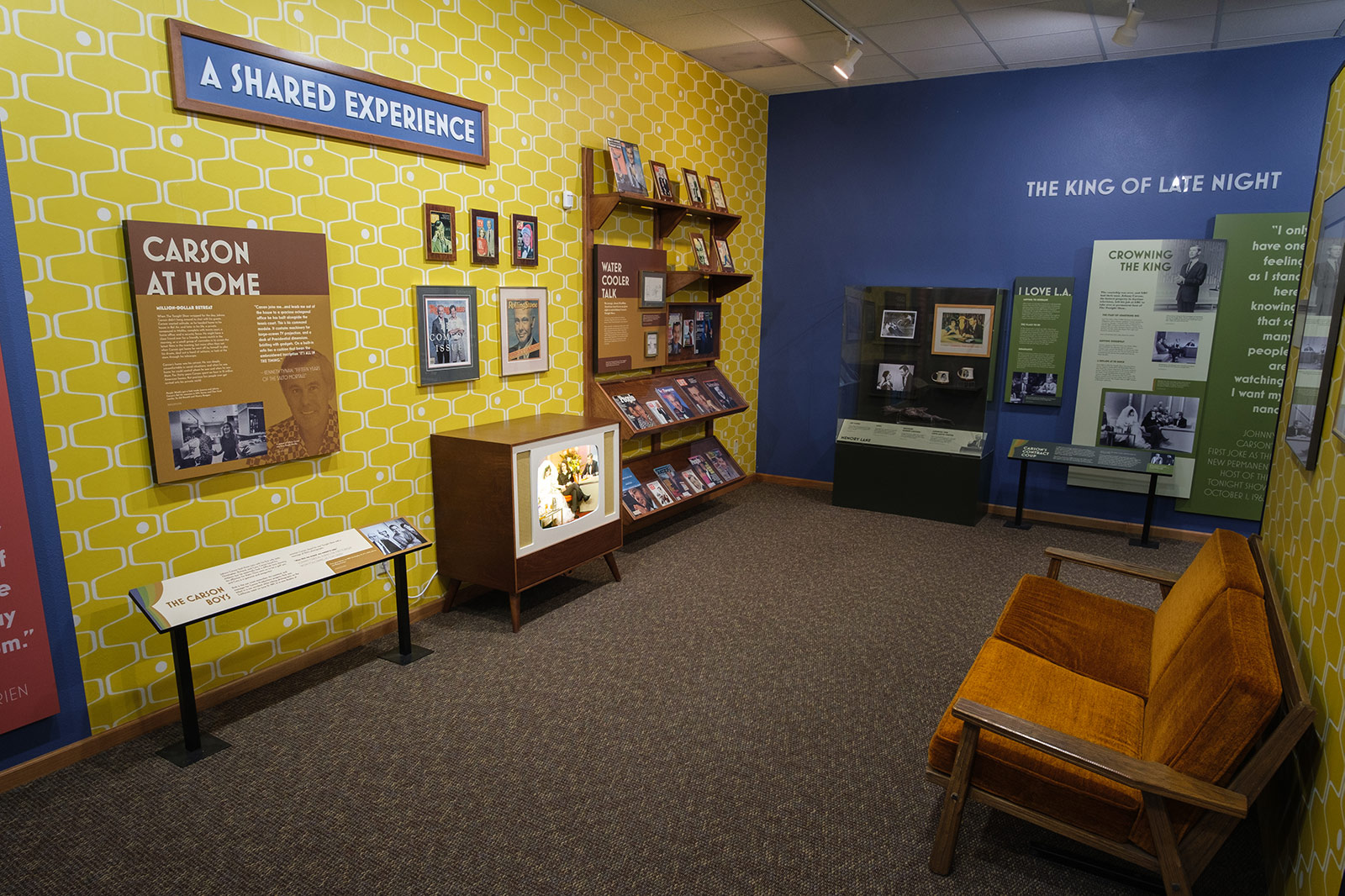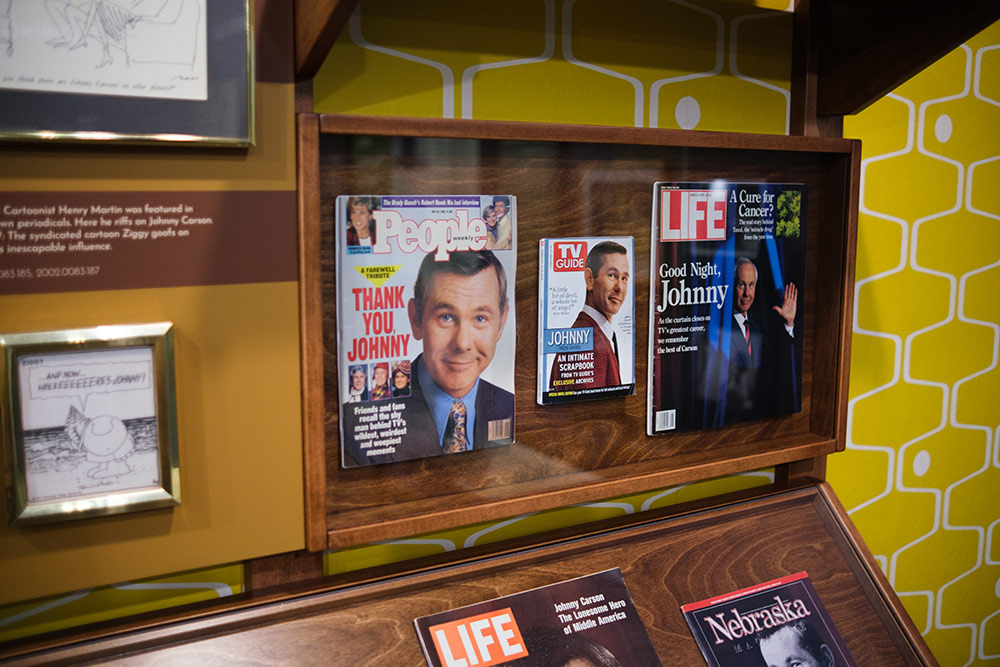 A custom walnut bookcase showcases magazines and other memorabilia often found in homes throughout the years.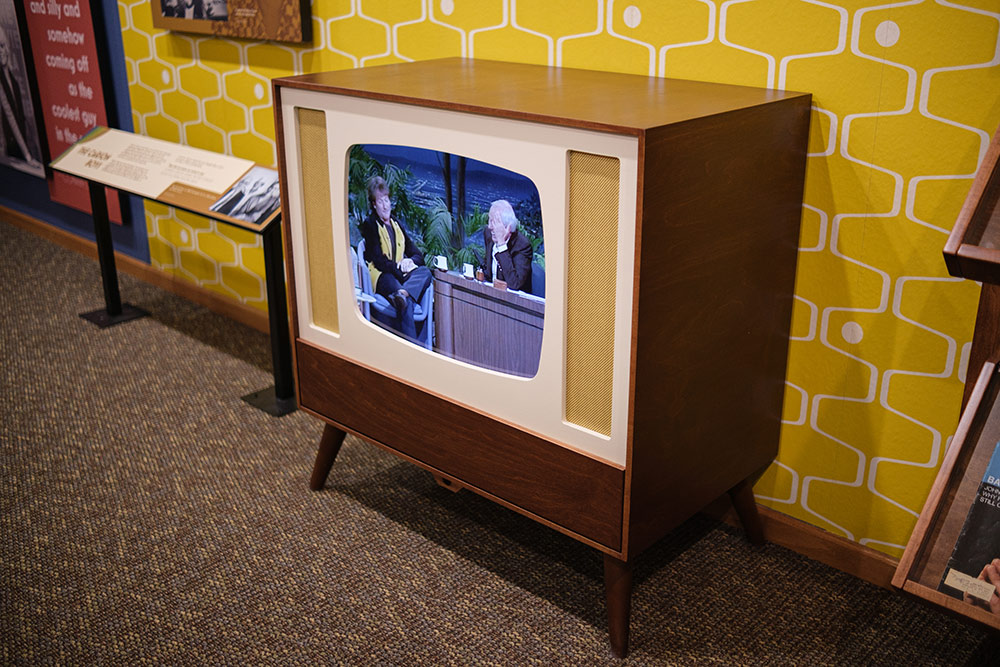 The retro tv was immediately a visitor favorite. Video clips loop silently until someone walks by or sits on the couch across the room. Once the motion is detected, the sound fades up for a period of time before fading away again after the presence is no longer detected.
On Air
---
A series of video kiosks throughout the exhibit allow visitors to watch highlight clips from The Tonight Show, documentaries about Carson, and tributes from those that knew him best.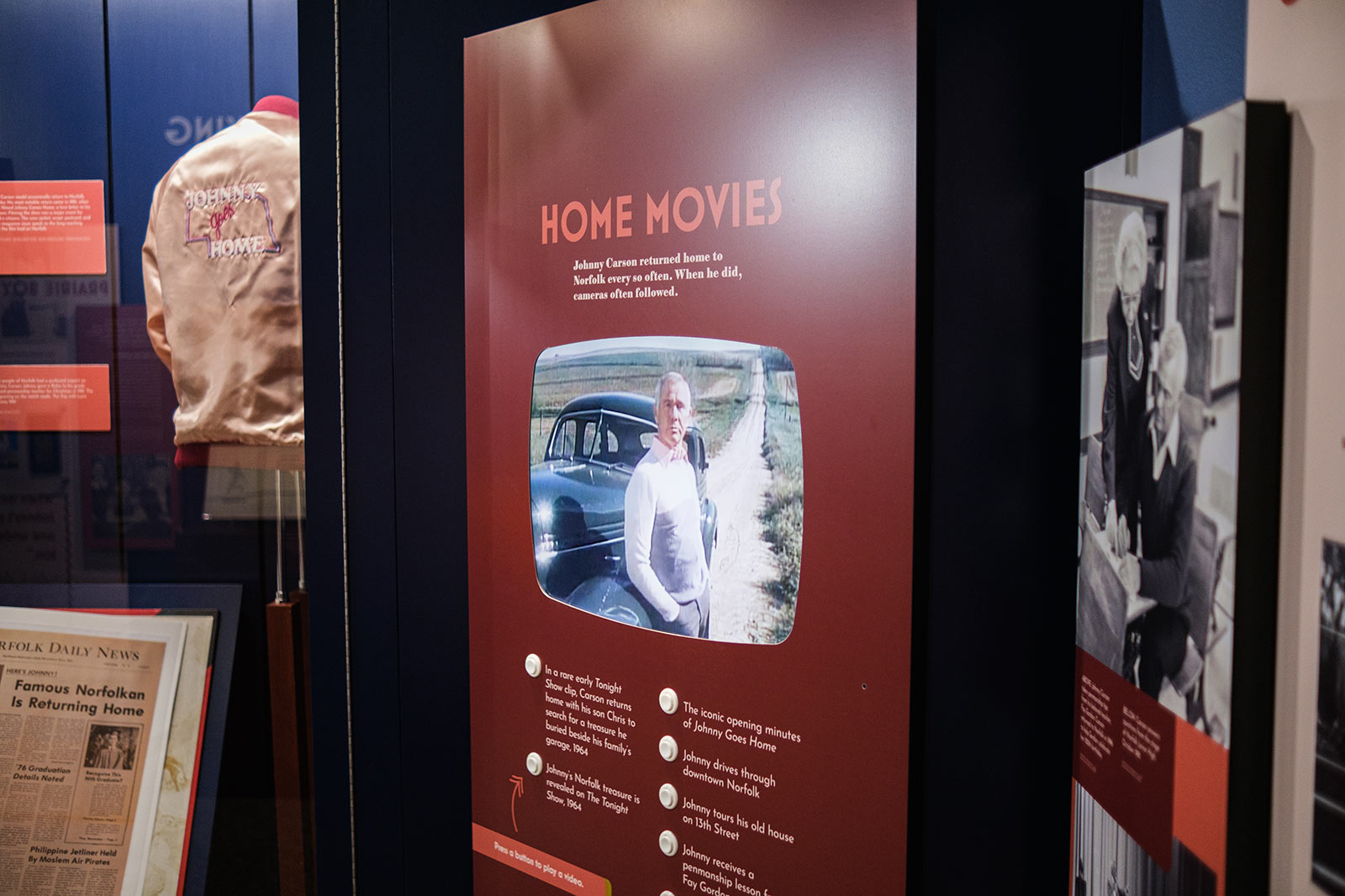 On Display
---
The artifacts on display in this exhibit include a Presidential Medal of Freedom, six Emmy awards, as well as screen-used props, costumes, and memorabilia. It's an impressive collection by any standard and deserves to be shared!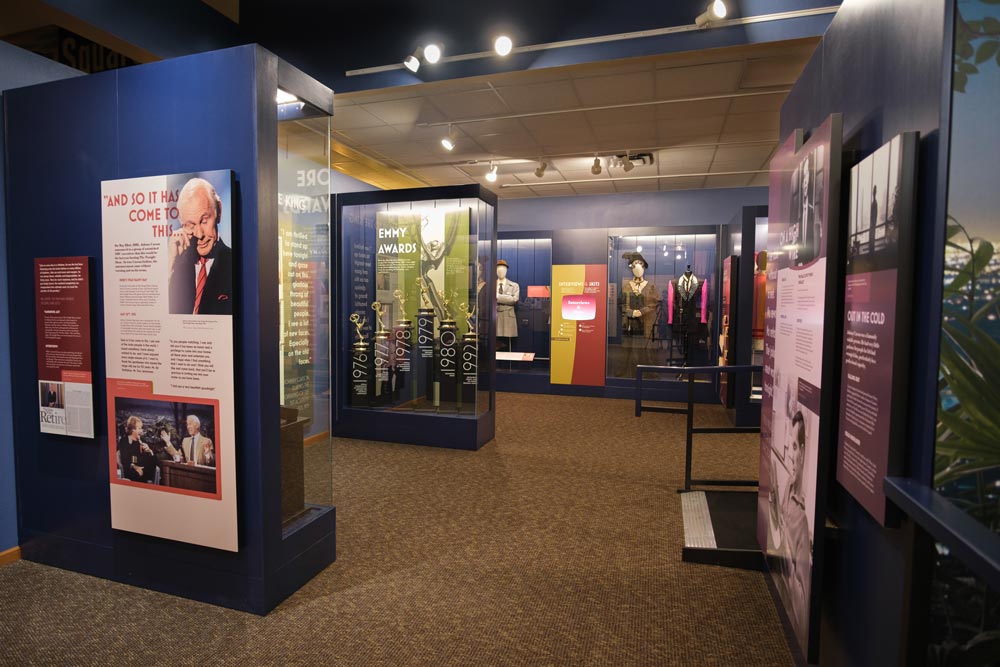 To showcase and protect these items, we used our own Upland Cuesta Showcases, specifically the Adjacent Two Window configuration. These cases feature adjustable Slimline Shelving, LED ceiling lights for artifact illumination, steel-reinforced frames, and hidden door locks. Removing the lower cladding allows you to move this case with a standard pallet jack, which made installation a breeze! The clean design and our Upland Signature Finish made this showcase a great fit for this exhibit.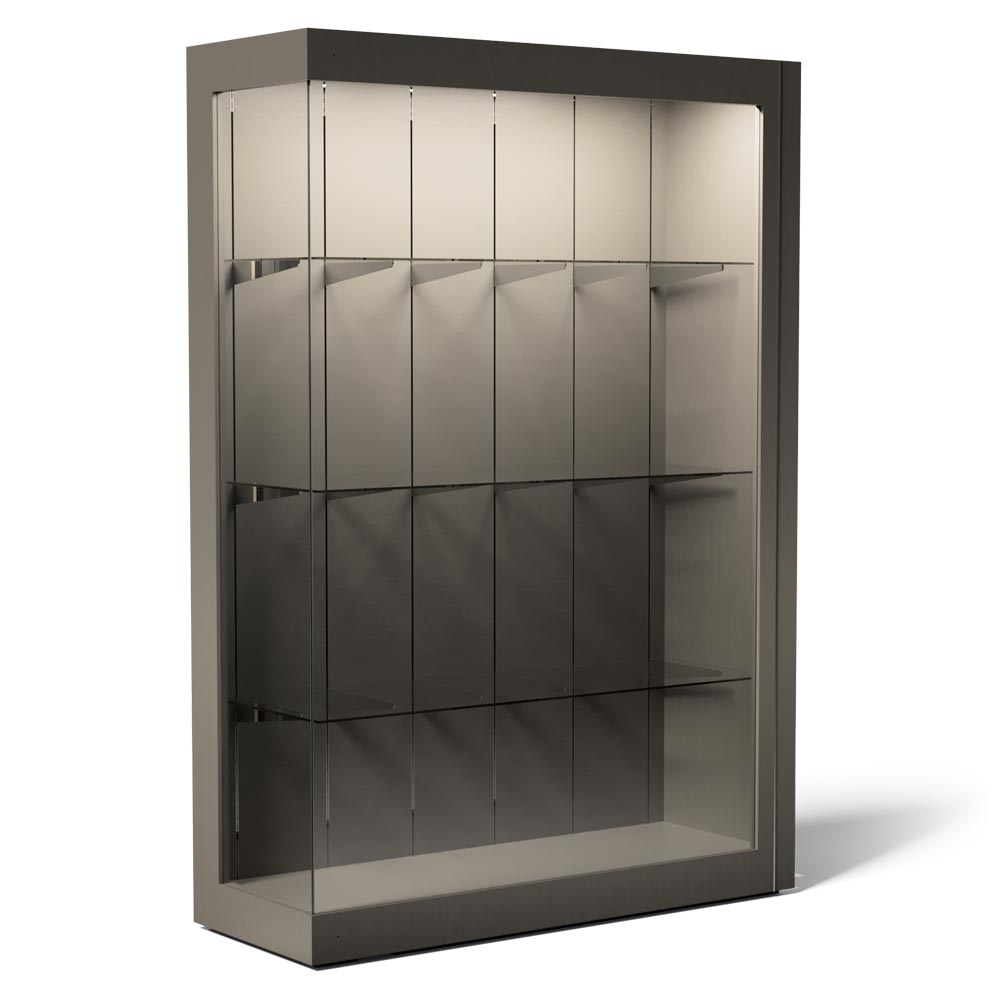 Shop Cuesta Showcases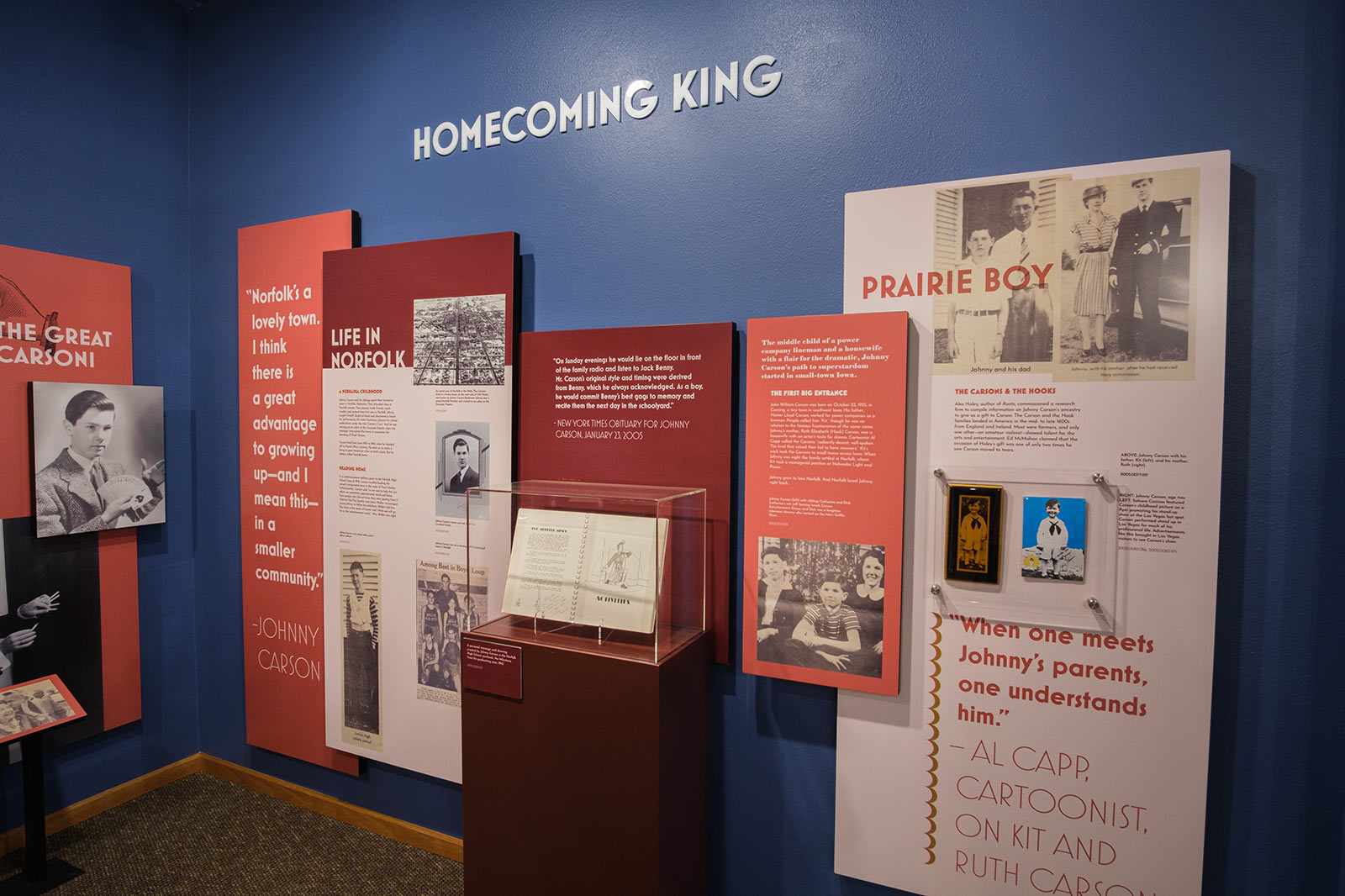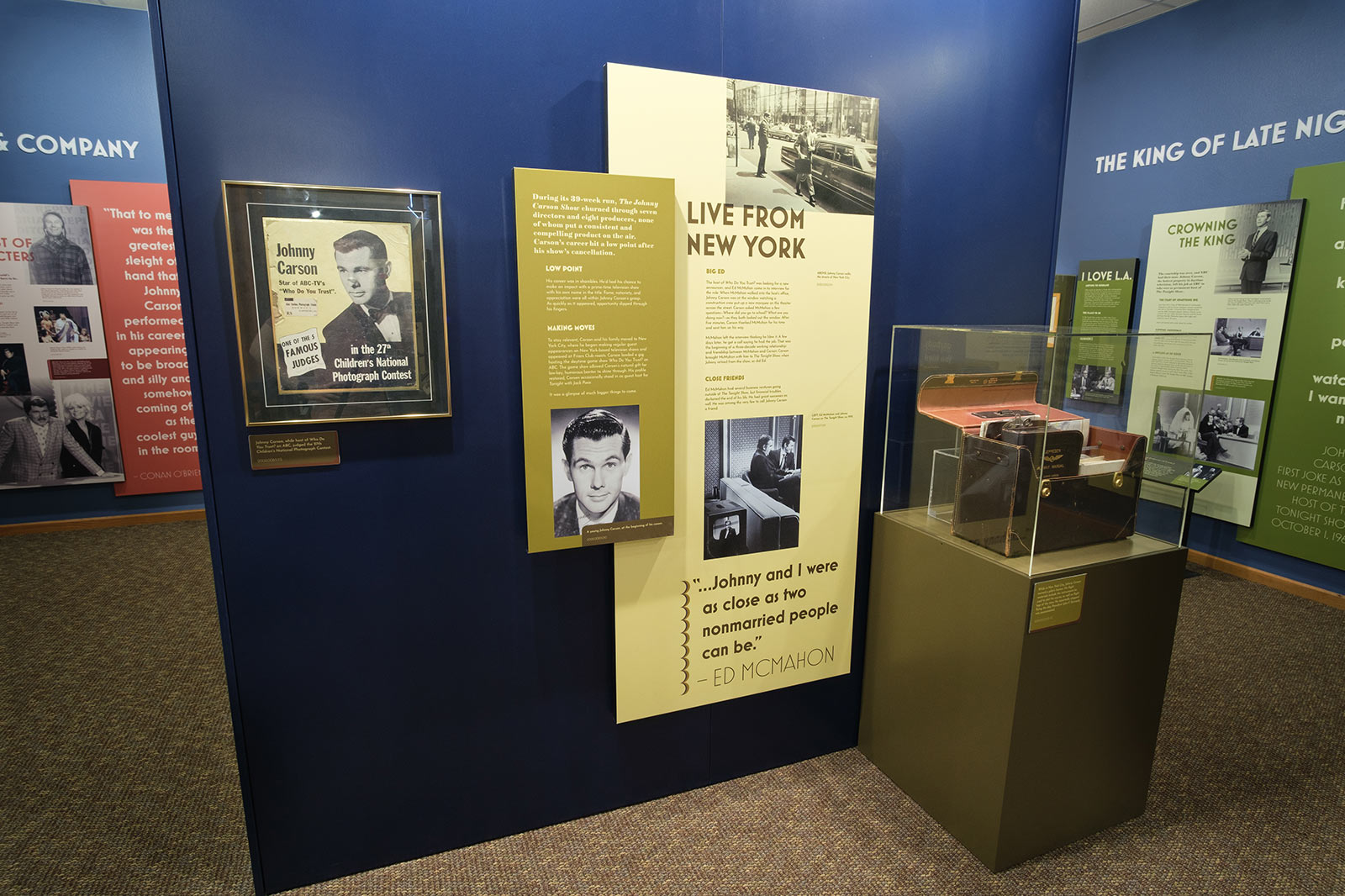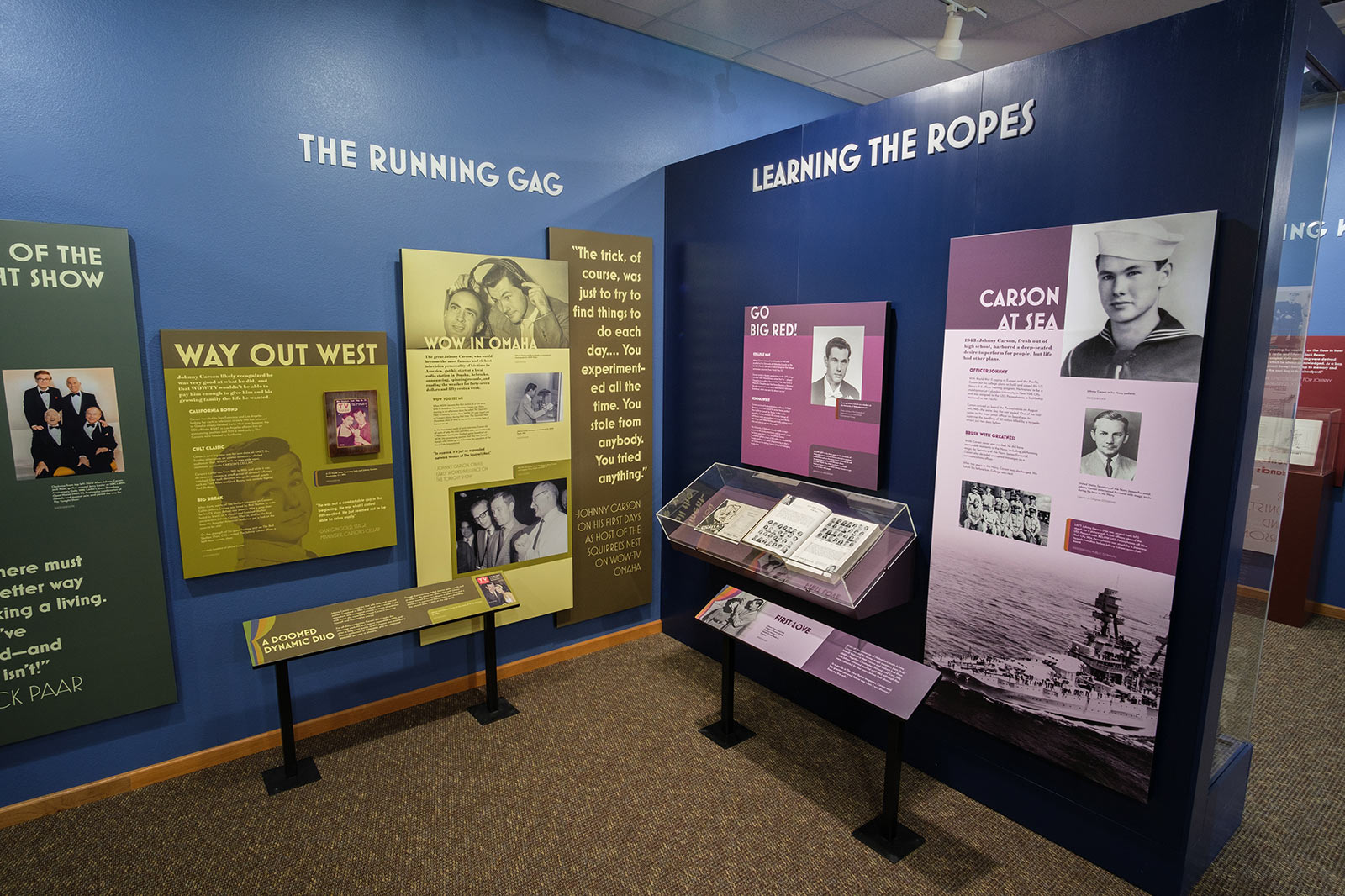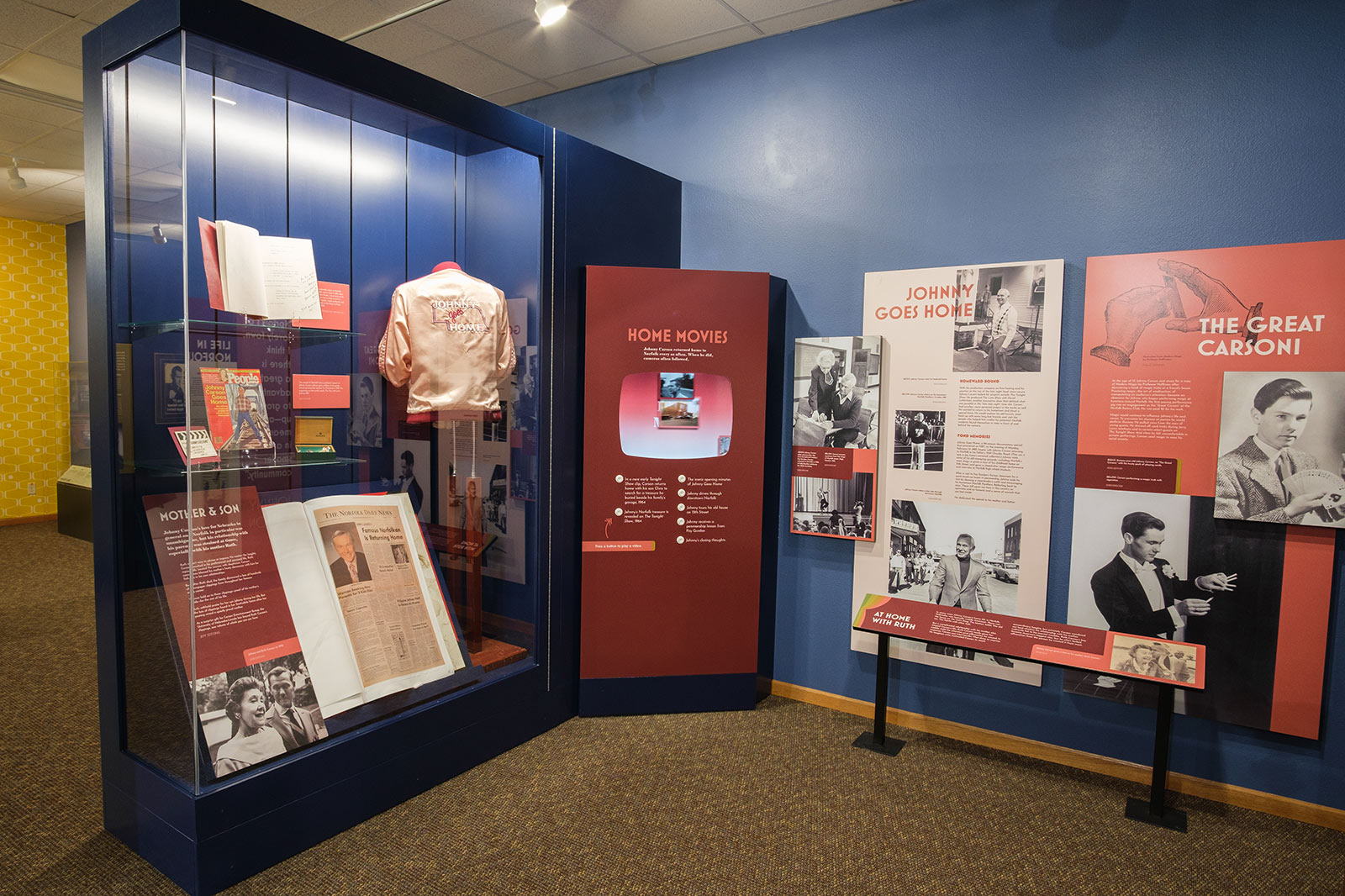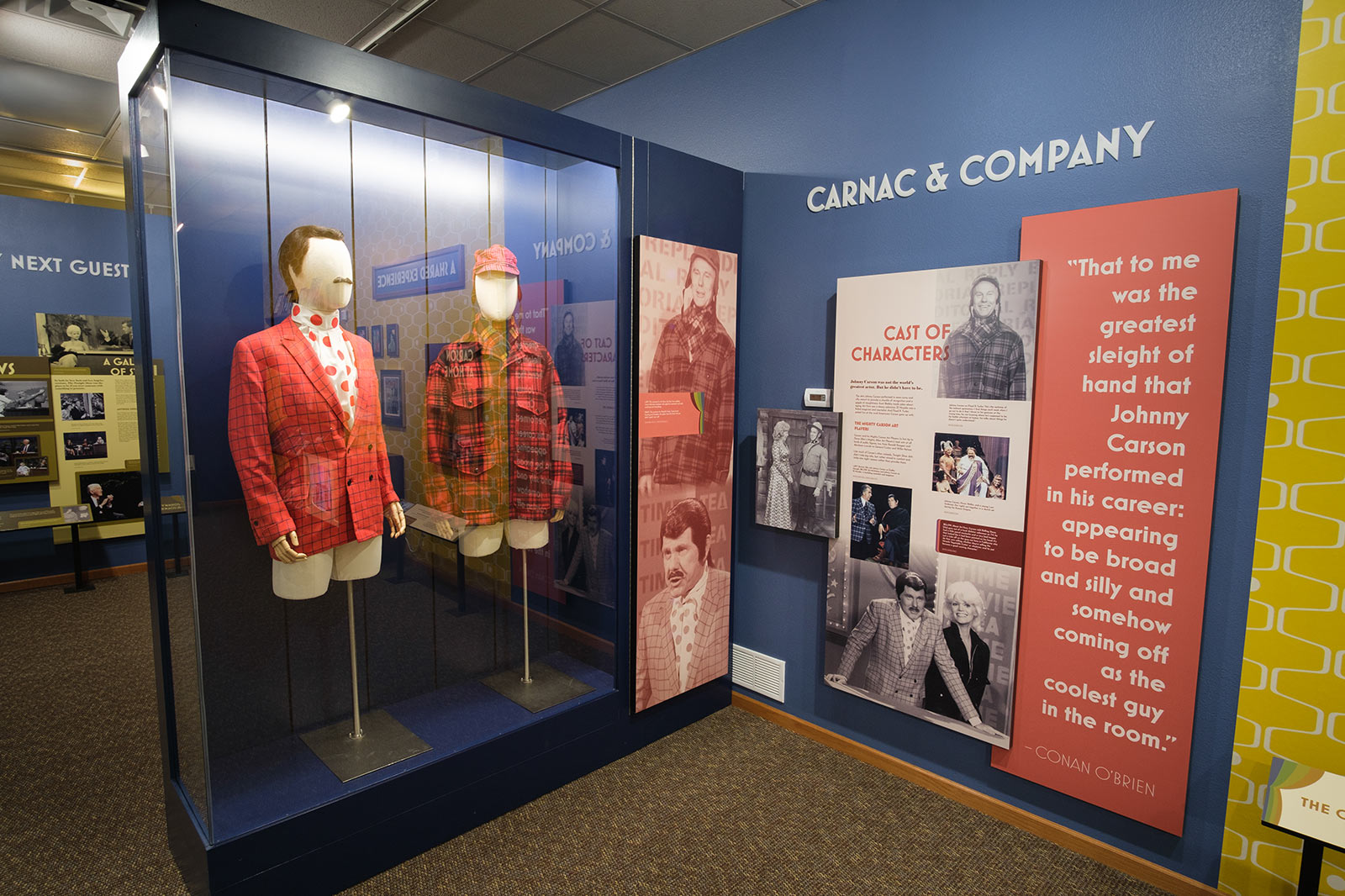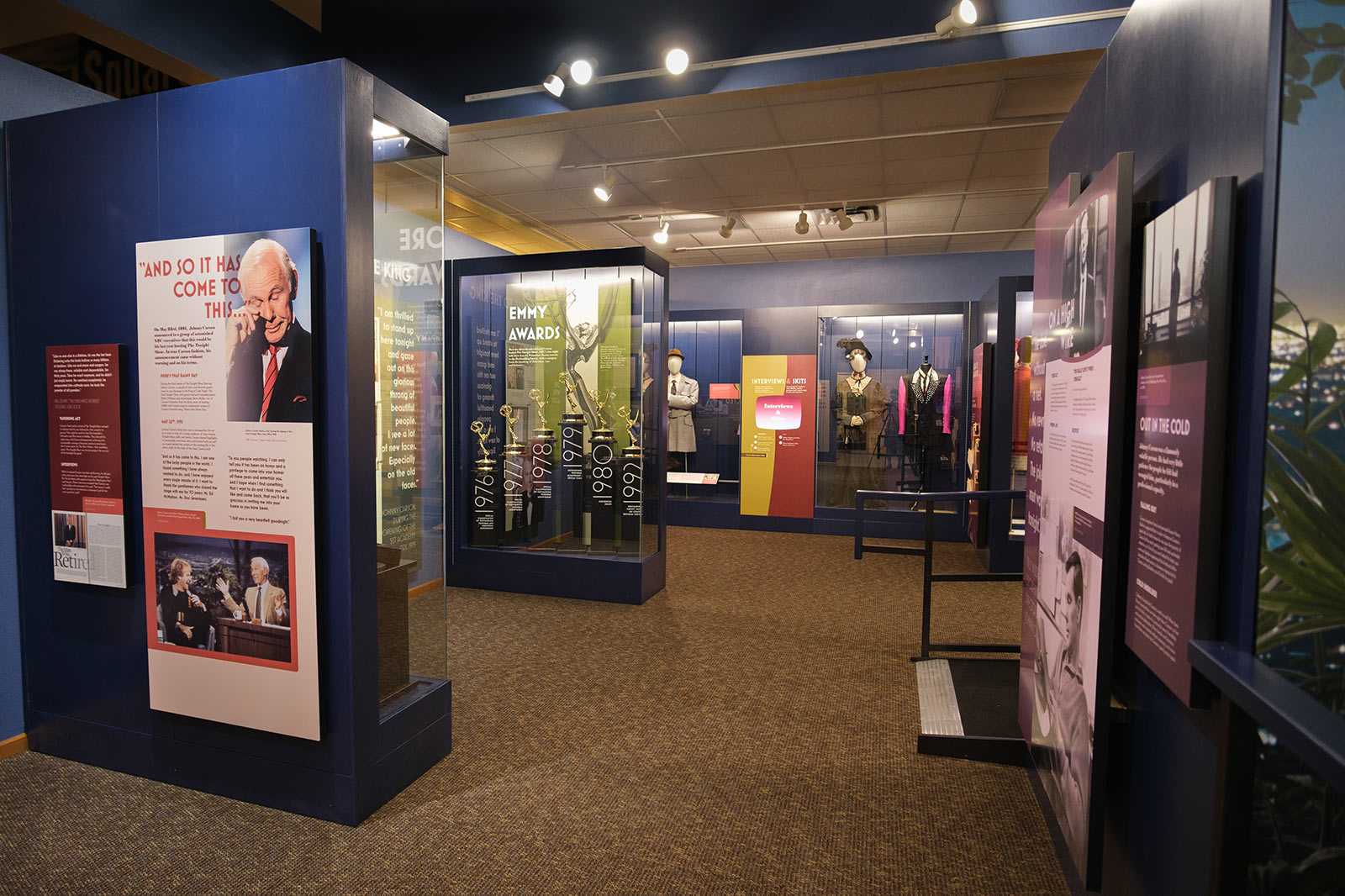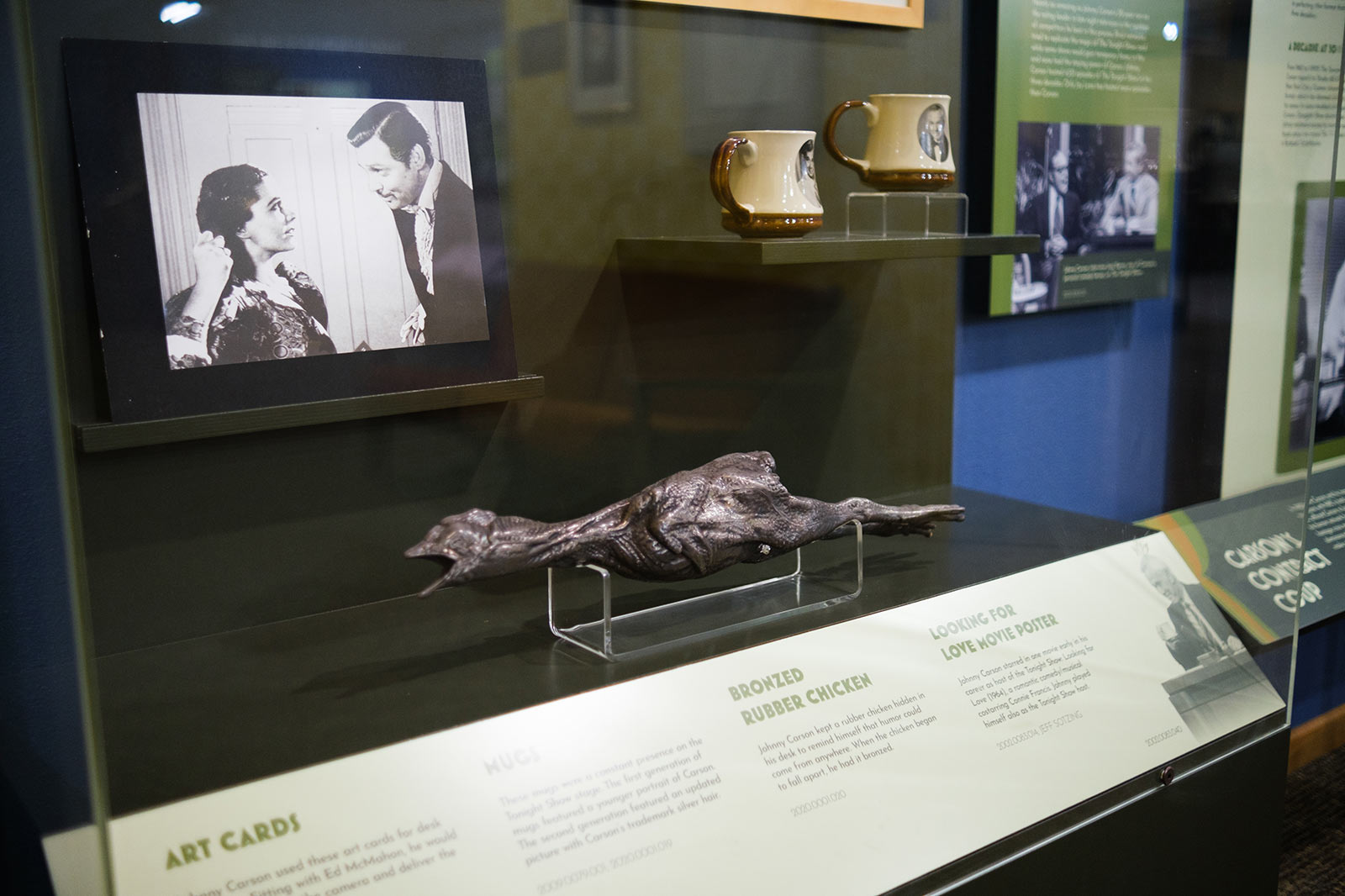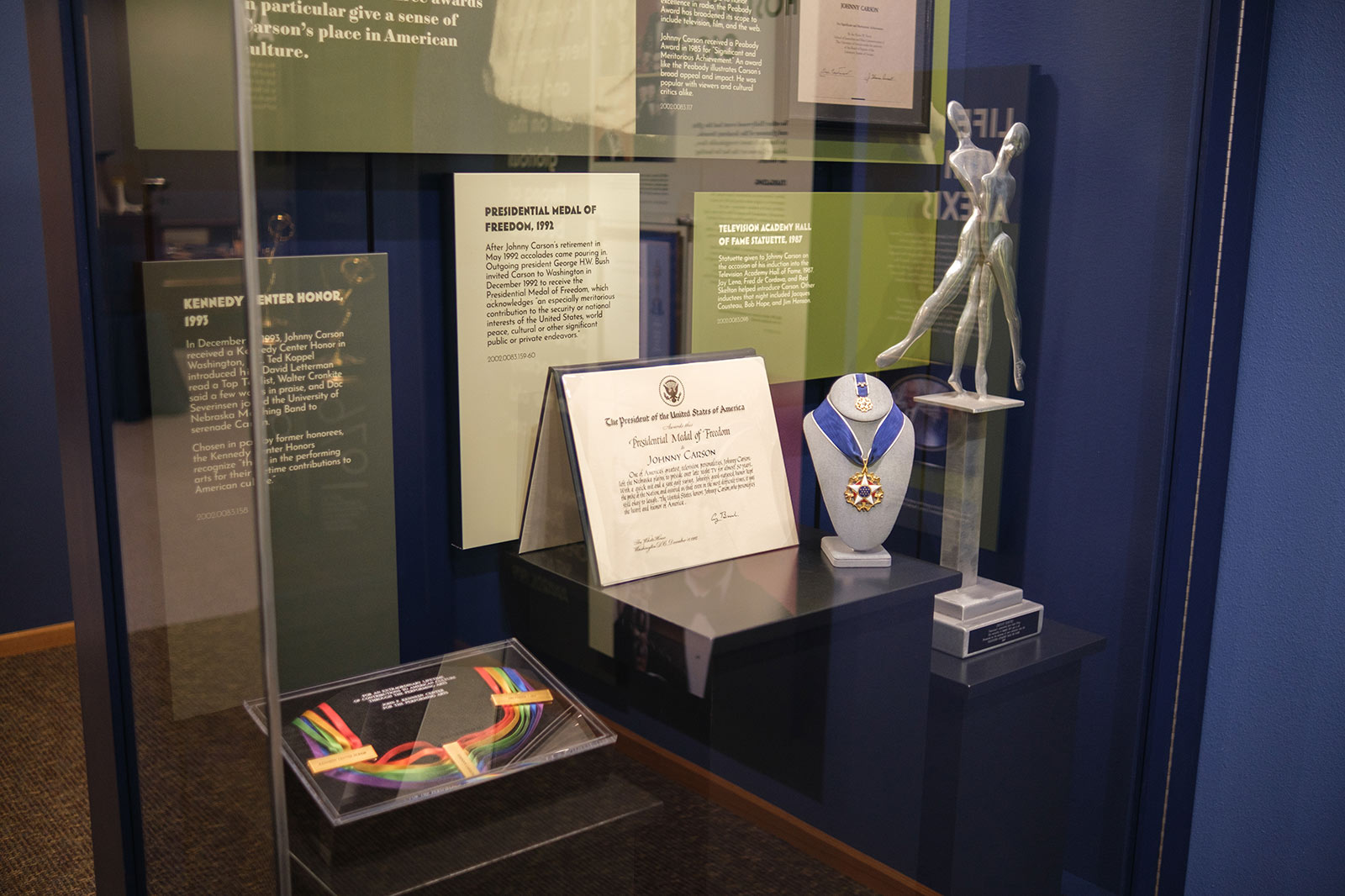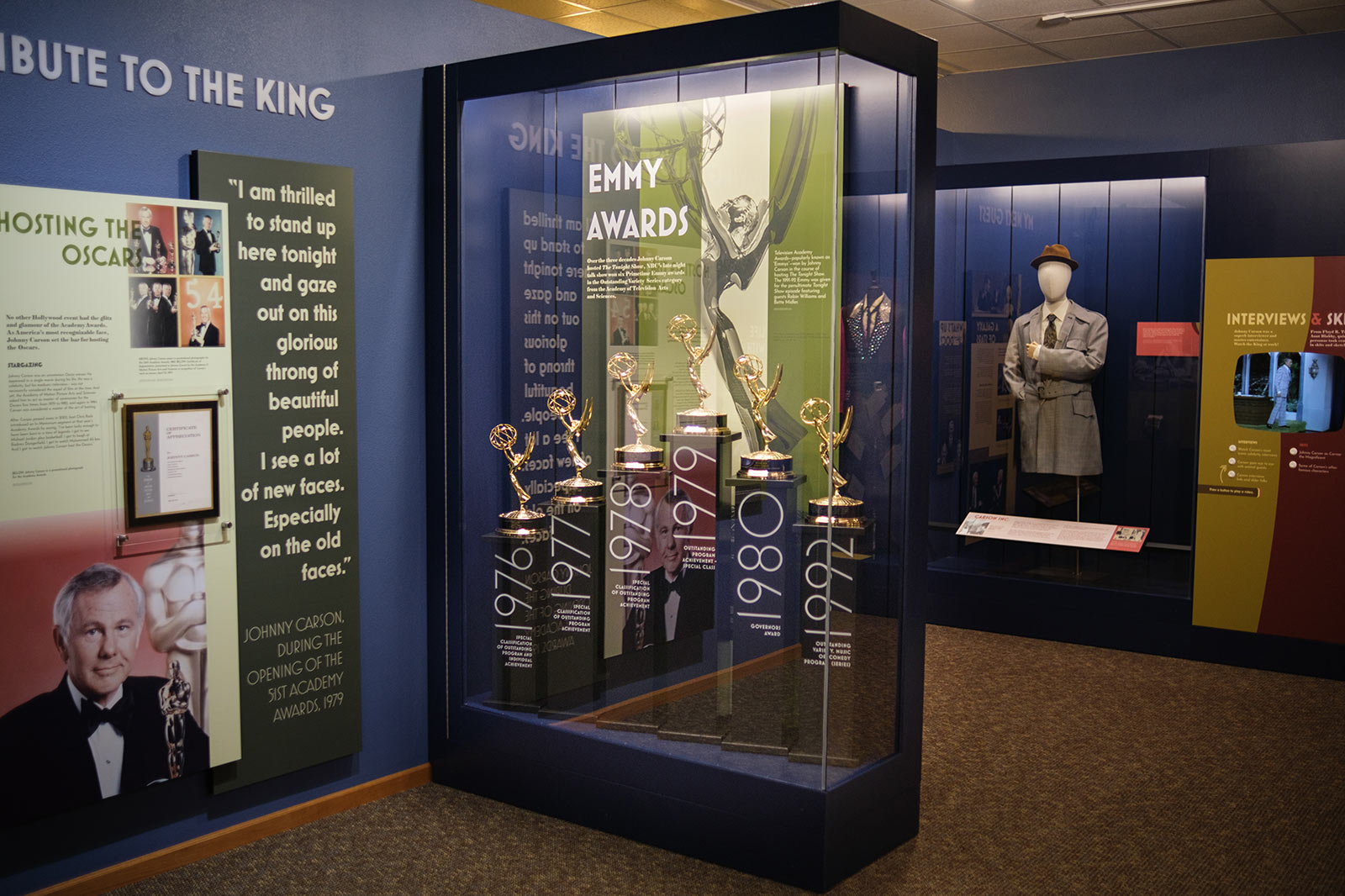 Hands-on Interactives
---
Simple mechanical interactives invite visitors to engage.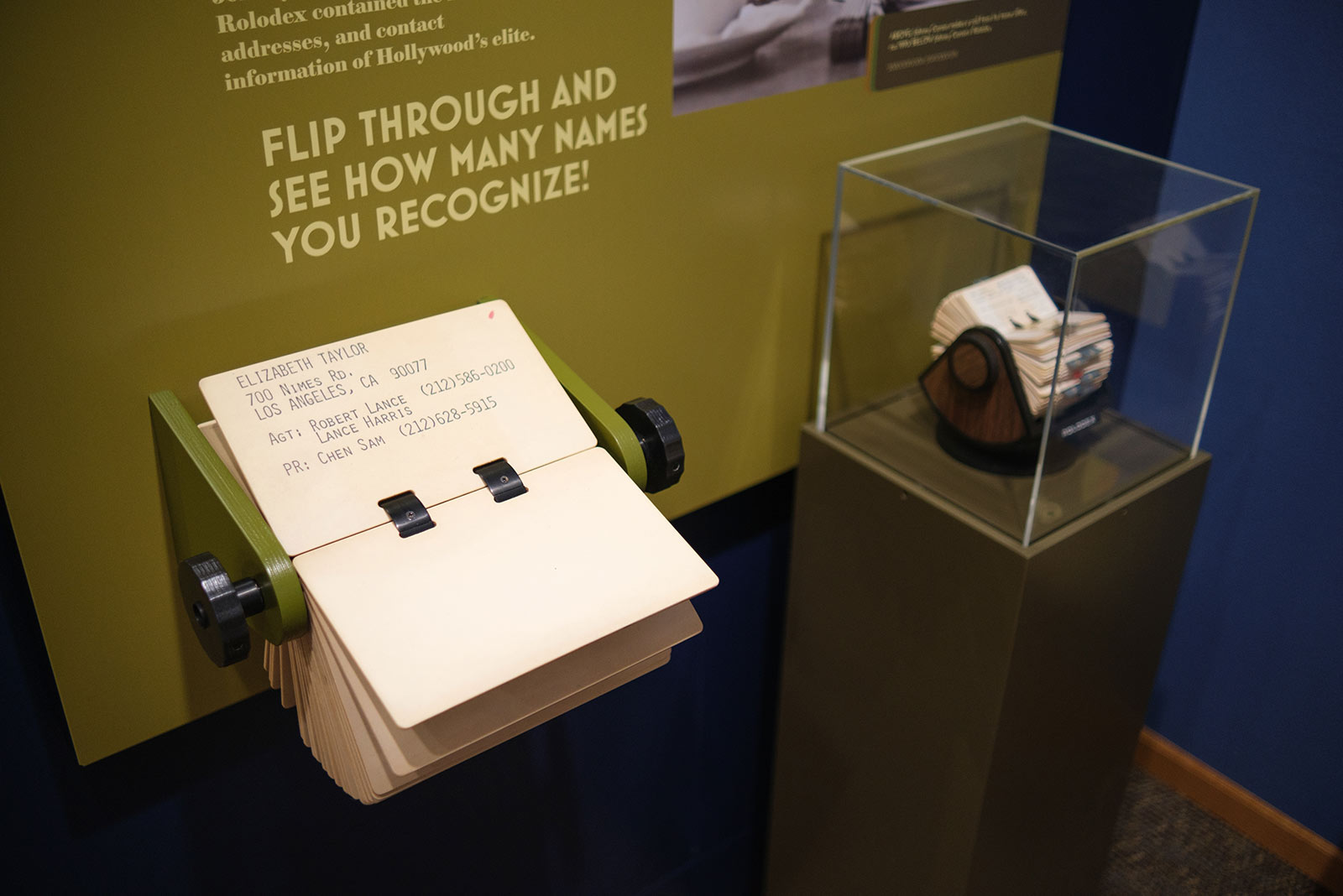 Scroll through a larger-than-life rolodex filled with Carson's contacts. The real rolodex is safely displayed nearby.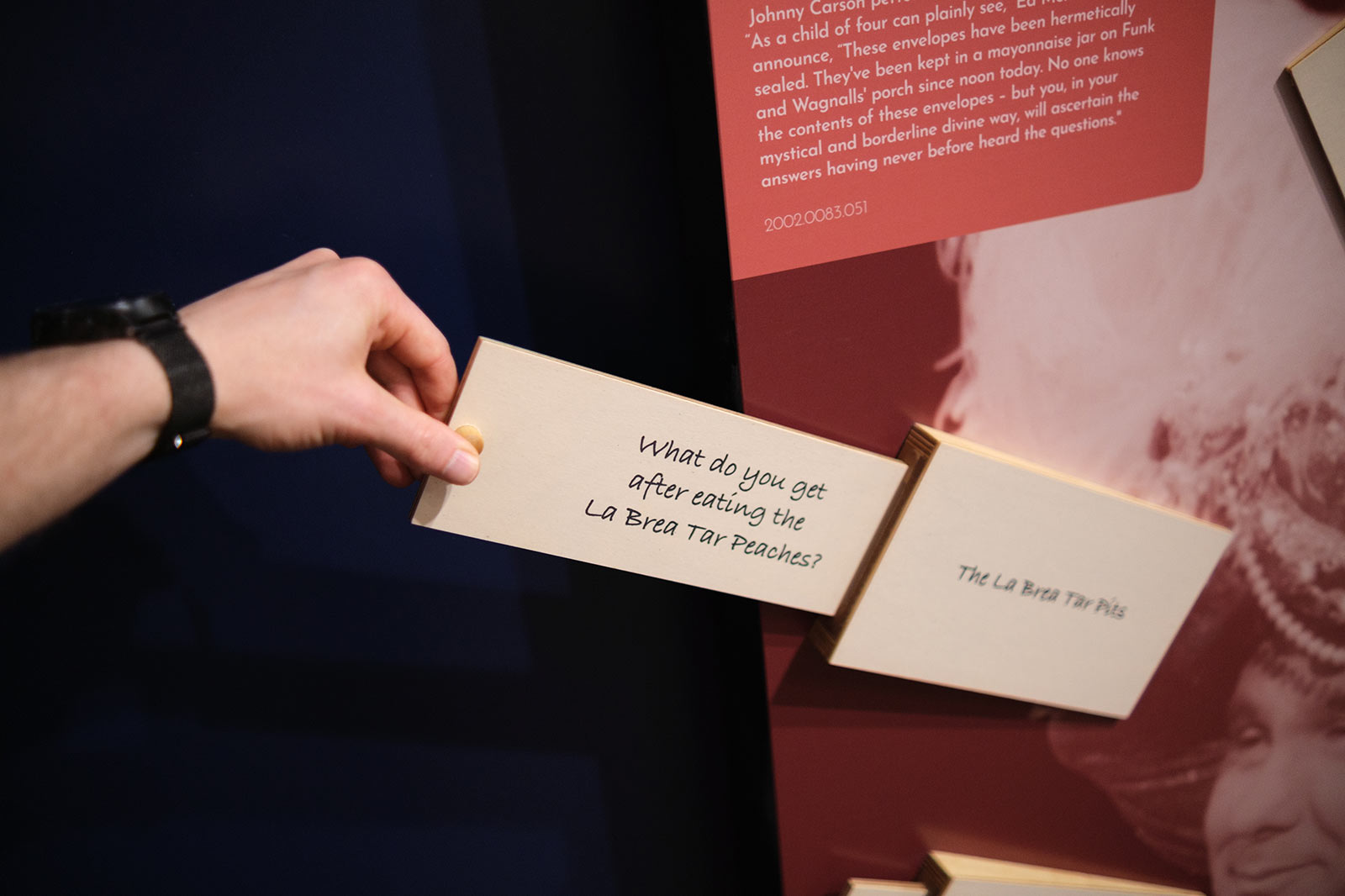 Open Carnac's envelopes to reveal a few of jokes Carson shared as the costumed fortune teller.
Tonight's Monologue
---
Visitors take a turn delivering their own monologue in front of the curtain. Carson's cue cards are mounted in the custom-built railing, allowing you to read his jokes or come up with your own.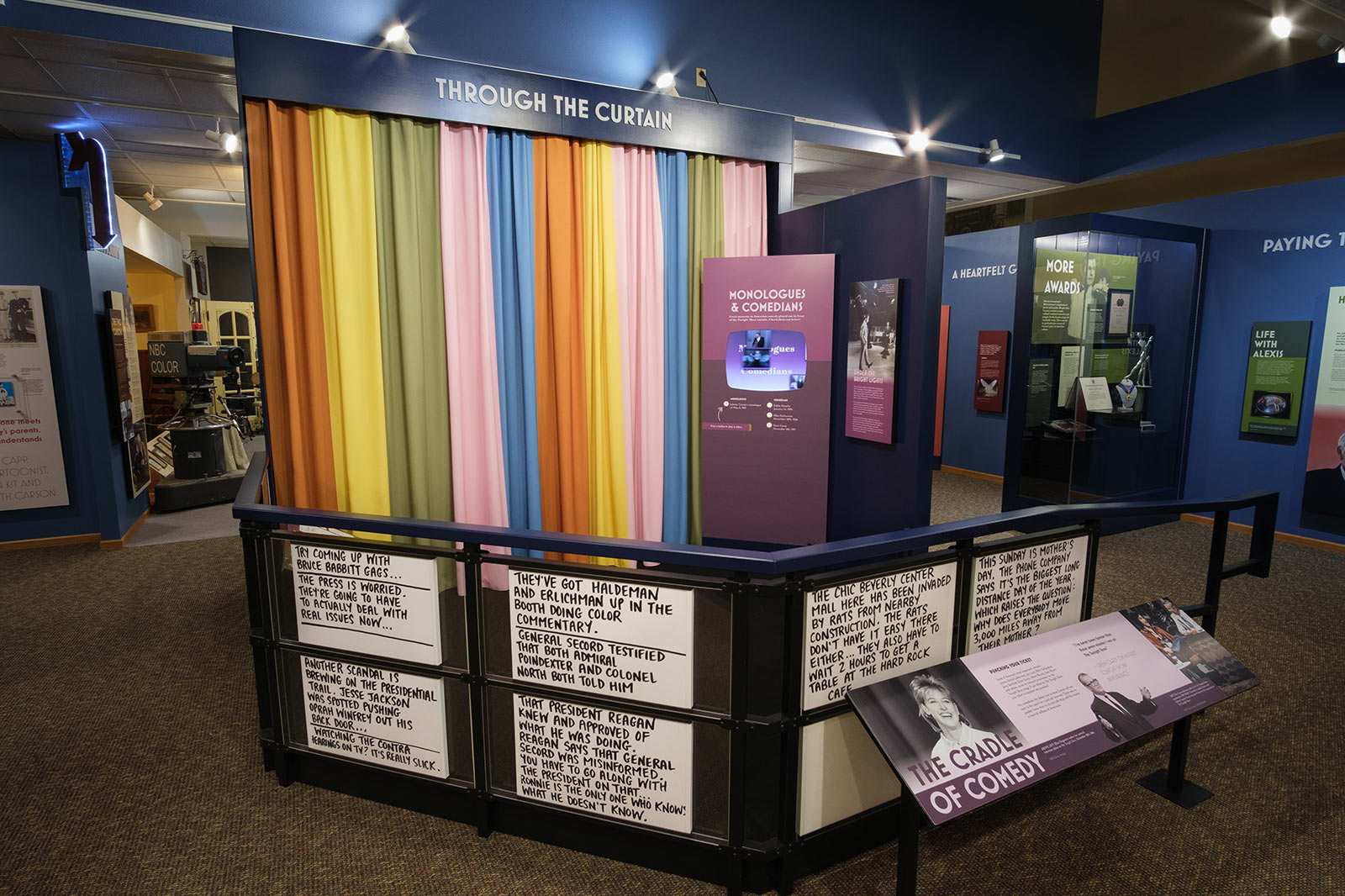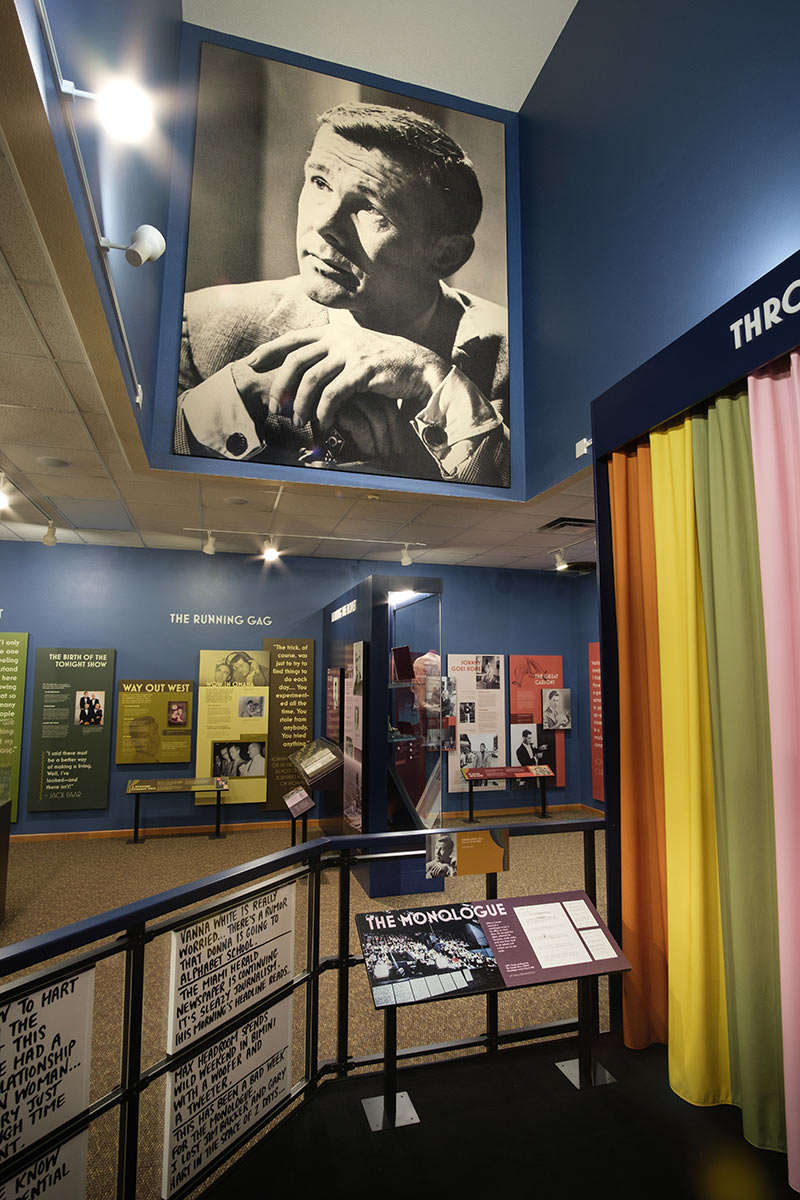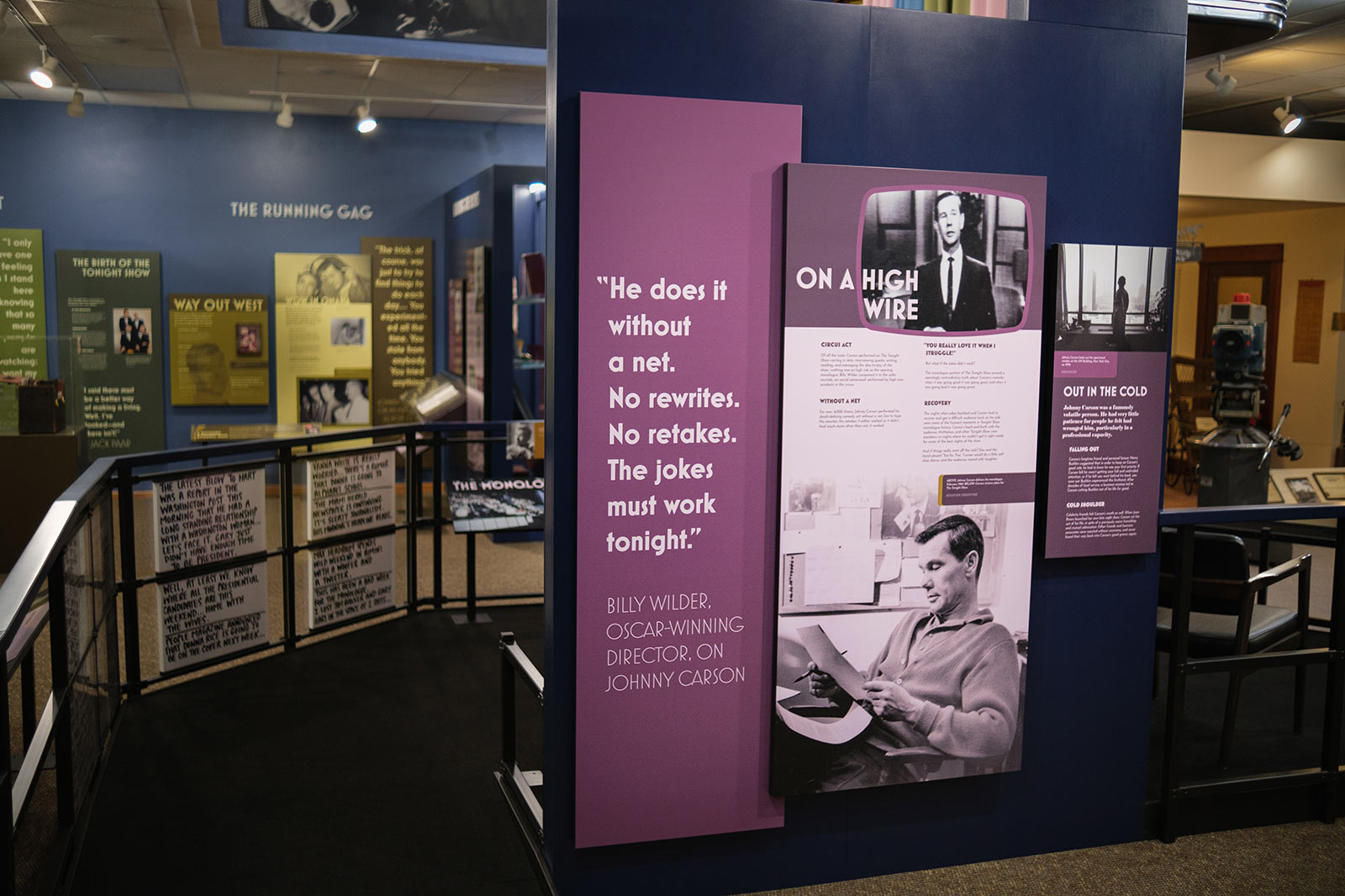 Render to Reality
---
A note on process: we leverage technology whenever possible--it's one of our core values.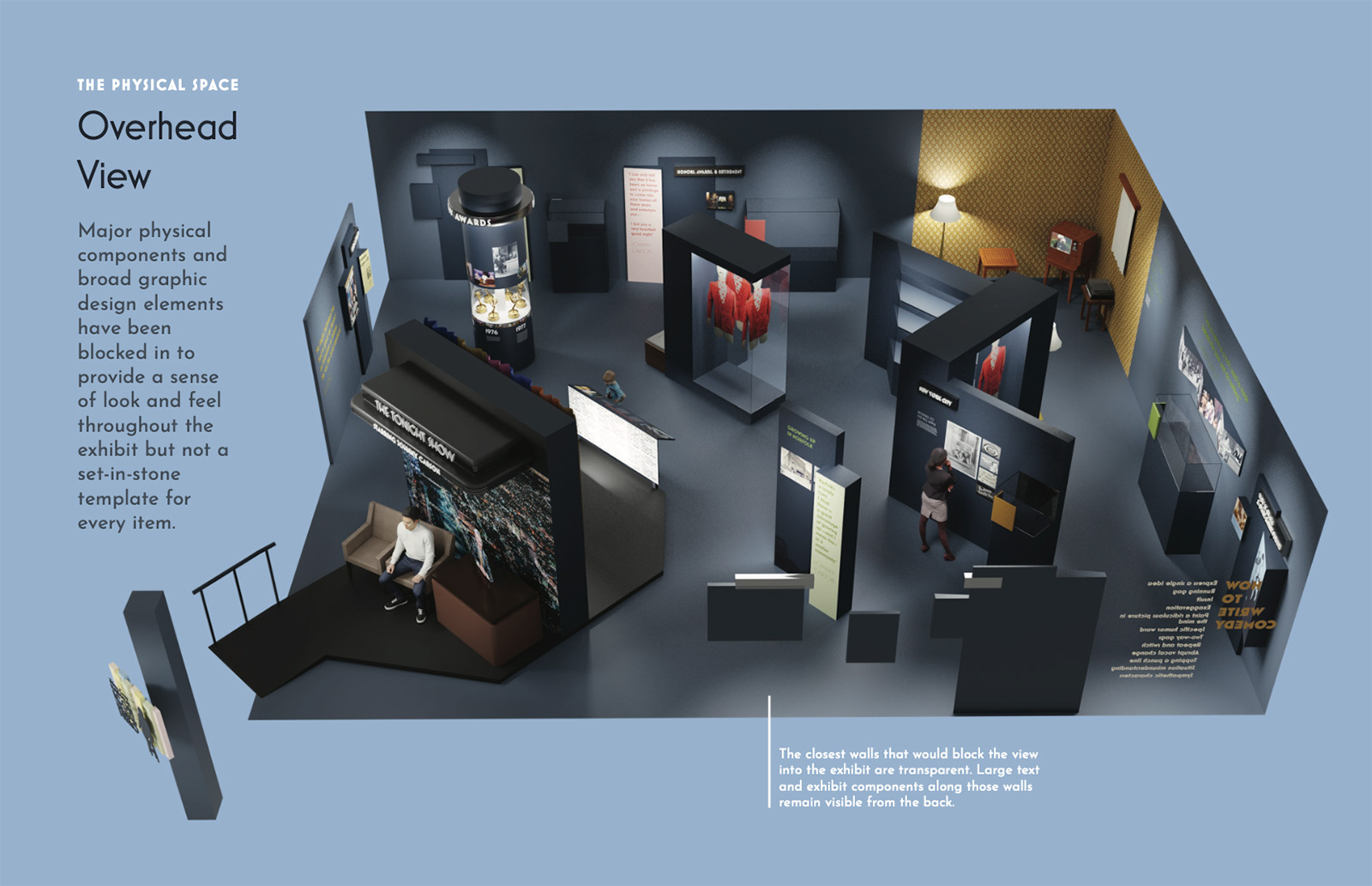 Above you can see an early rendering from the schematic design phase. Compare this rendering with the final project rendering and photos below.
The design had to change slightly to meet budget realities, but that's ok! We worked to adjust the project scope and deliver a great exhibit on budget.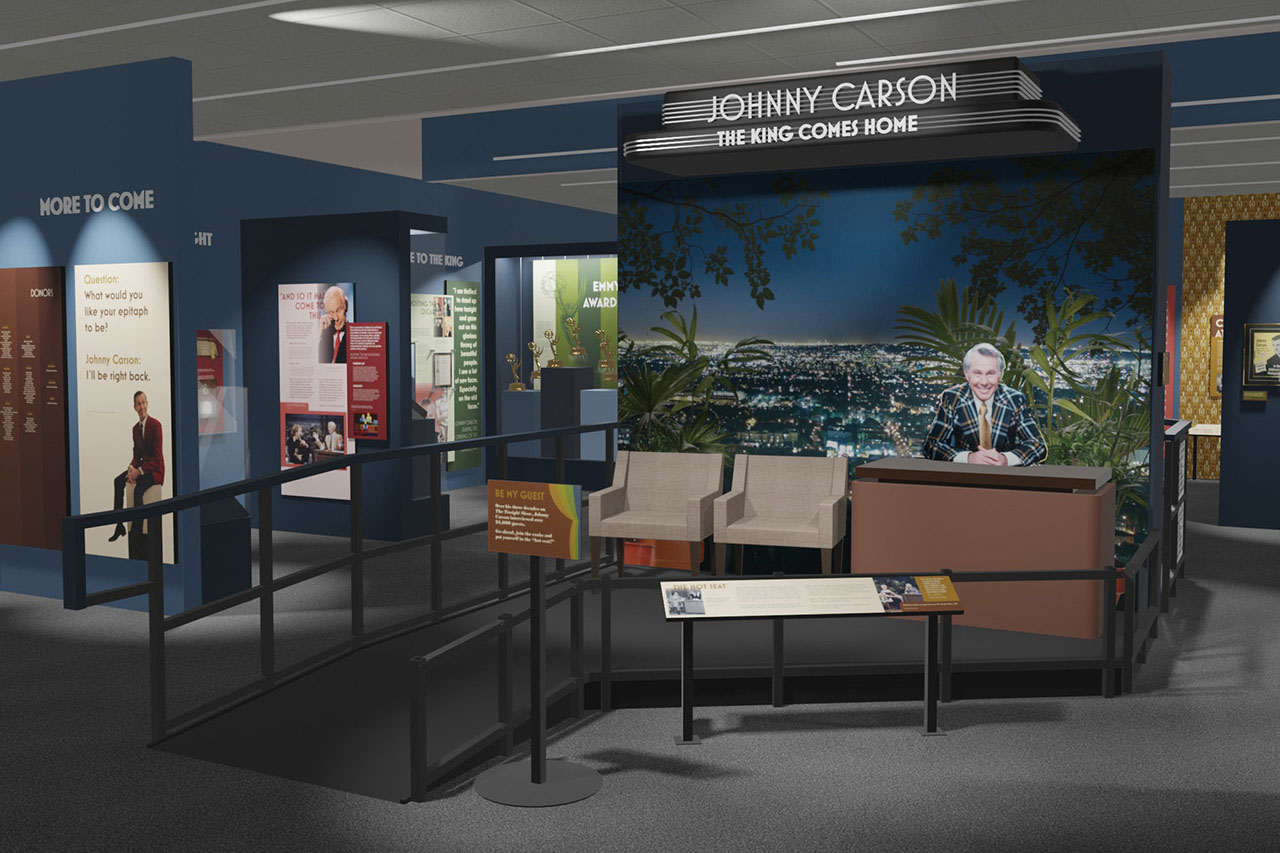 computer generated rendering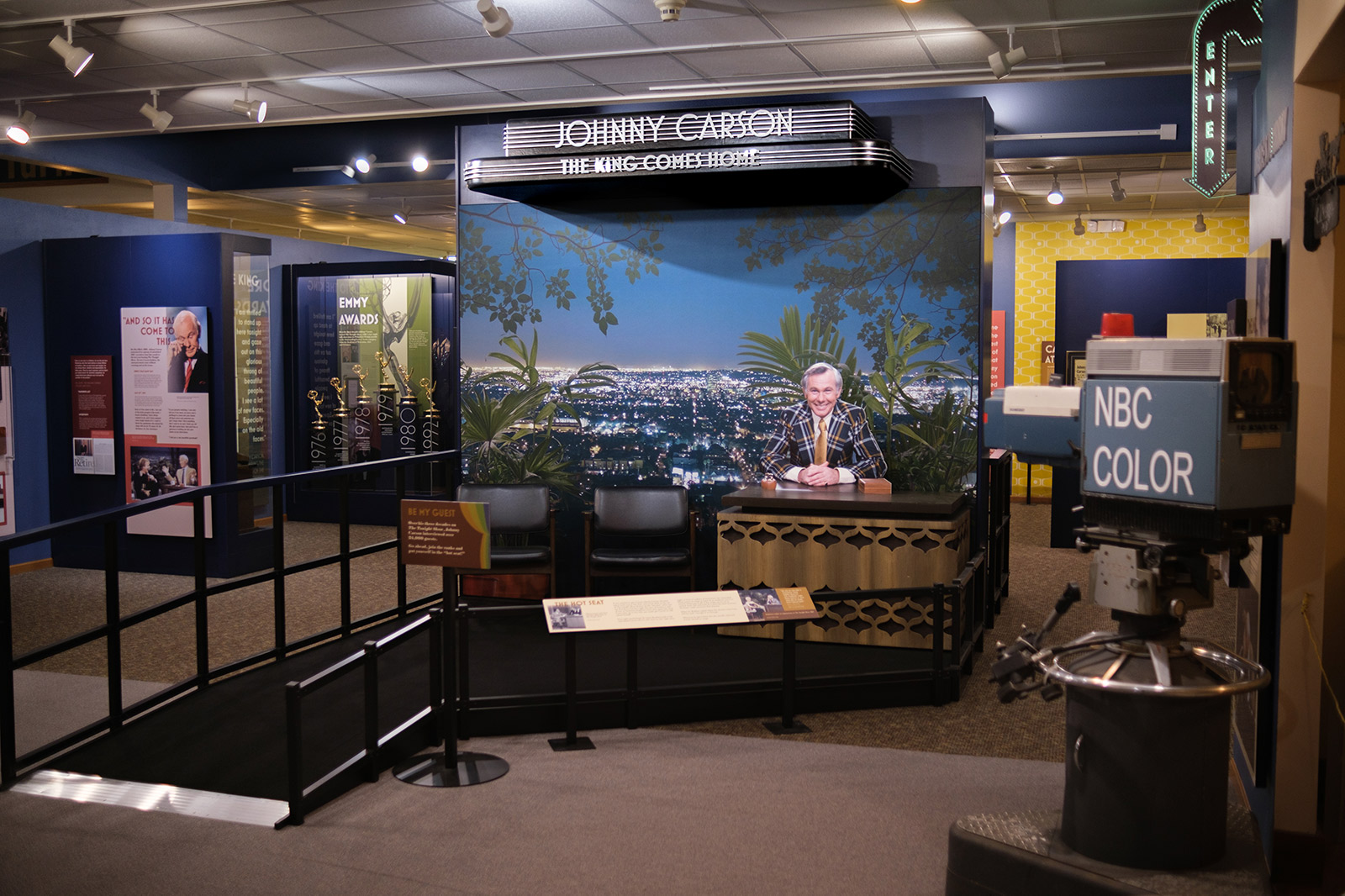 photo of completed exhibit