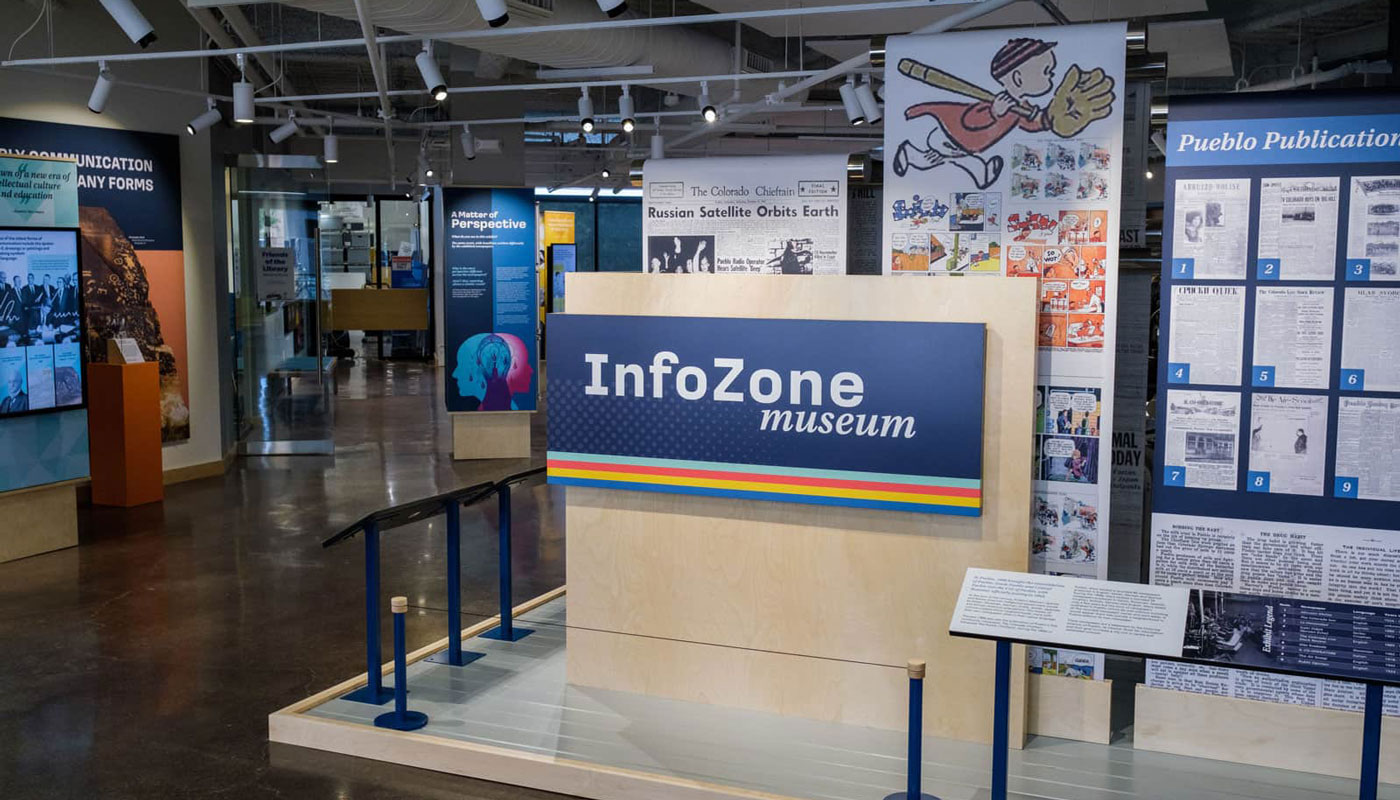 Robert Hoag Rawlings Public Library, Pueblo, CO
InfoZone Museum
The impressive Robert Hoag Rawlings Public Library in Pueblo, CO was undergoing major renovations and looking to re-envision an outdated exhibit on their fourth floor.
The new exhibit would hold a prominent location on the main level next to an integrated coffee shop, but in a thoroughfare to a meeting room, maker space, and computer lab. With several large banks of windows in close proximity, they wanted a visually pleasing set of exhibits that would increase patrons' media literacy, educate about the first amendment, and share a history of news (communication of information) both on a global scale as well as local.
A Shared Space
---
The exhibit needed to be engaging, while also allowing library patrons to easily access the adjoining meeting room, maker space, and computer lab. During the early stages of the project we generated multiple iterations of the exhbit floor plan and worked diligently to discover a balance between interpretive elements and the flow of foot traffic.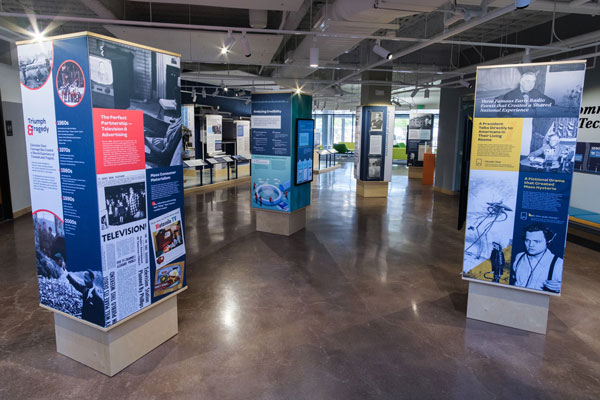 Smaller Footprints
---
To allow for plenty of walking space throughout the exhibit, we designed a "column" display that had a relatively small footprint. The four sides of the column display provided a reasonable amount of interpretive surfaces for exhibit content as well as the interactive touchscreens.
Newsprint Sculpture
---
The main feature of the exhibit is the large sculpture featuring long runs of "newsprint" weaving in and around a series of rollers intended to simulate a modern newspaper printing press. The display gives a sense of movement to the space, even though it's stationary. Robert Hoag Rawlings—the namesake of the library building—was a newspaper man, so anchoring the exhibit with this display creates a strong connection between the exhibit and the history of Pueblo.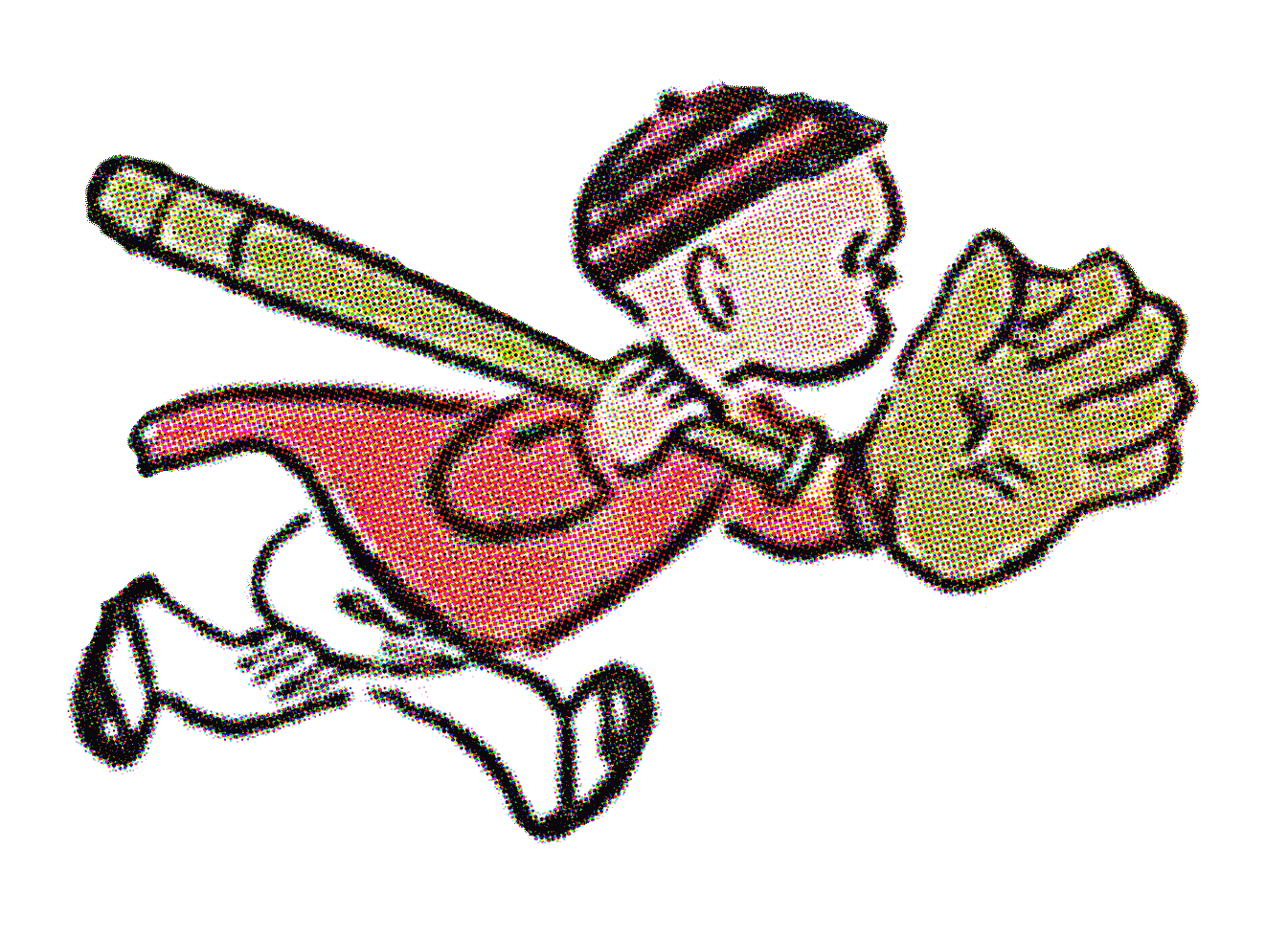 Digital Interactives
---
The rich history of news includes the methods and technology that were invented to spread the word.
To display the various supplementary videos, audio samples, and pictures we added large vertical touchscreens that were mounted to the display columns. The touchscreen user interface was custom designed and built to match the rest of the exhibit and we took care to ensure that the interactive zones fell within accessible height ranges.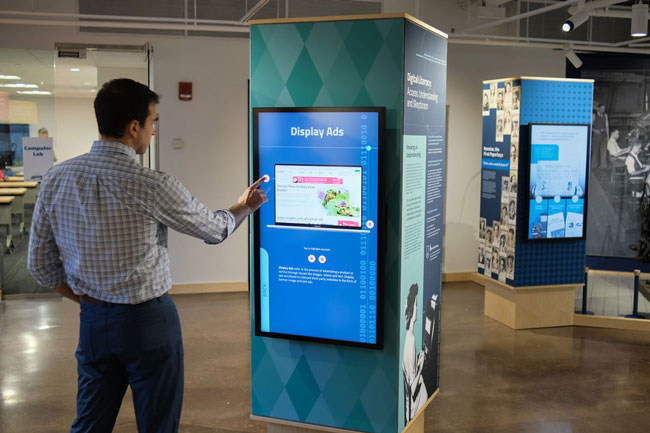 Looking to transform your space?
Contact Us →