Museum Accessibility & the Halo Effect
---
Flint Hills Design has been thinking a lot about museum accessibility recently. This thinking is borne out of a project we completed for Wichita State University. WSU is home to the original Pizza Hut building, and Pizza Hut's founders, Dan and Frank Carney, are alumni of the school.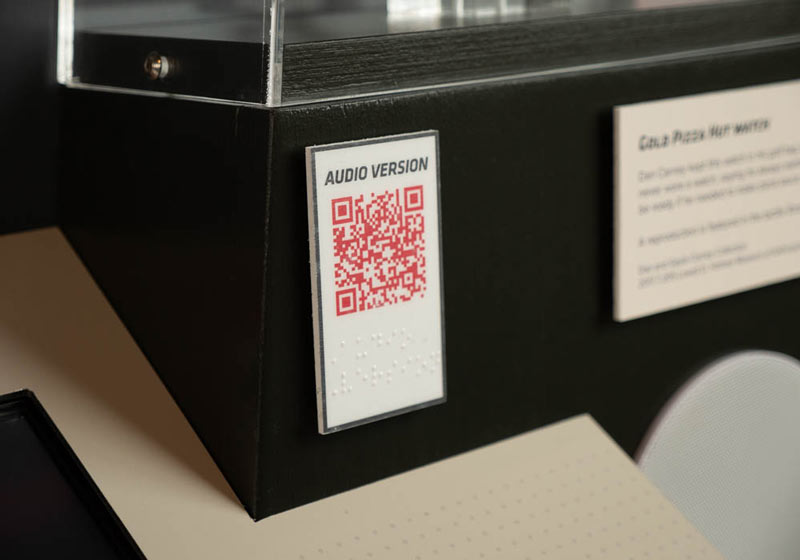 WSU contracted with us to conceptualize, design, and build the Pizza Hut Museum into the original building. WSU had recently entered into an agreement with the National Federation for the Blind to increase access for blind students on campus. The Pizza Hut Museum presented an exciting opportunity for everyone involved to think seriously about what access meant from the very beginning of the project.
So we set to work consulting with key stakeholders at WSU, as well as experts in the field at Envision, an organization that specializes in providing opportunities for blind and low vision clients in the Wichita area. Together we thought through what it means to provide meaningful accessibility to the blind community in a space like the Pizza Hut Museum.
"Flint Hills Design took on the challenge of providing accessible experiences with open hearts and minds – and we couldn't be more excited about the results. The solution FHD implemented provides accessible content for all visitors in a sustainable, effective way."

-John Jones

Director, Media Resource Center, WSU
There were some truly inspiring moments. In the original Pizza Hut building there was a chimney space that we thought might be turned into a case or some other traditional exhibit component. Instead, we partnered with the National Institute of Aviation Research at Wichita State University to scan and then 3D print reproductions of key artifacts from the museum's collection to create a tactile library. The space would be not just functional or educational, but sculptural as well. Repeated patterns of 3D-printed objects – a mini replica of a Pizza Hut building, the original rolling pin used by the Carney brothers in the first Pizza Hut, a pair of shoes specially made for a recent promotion – would not only provide equal access to visitors of different heights, ages, and abilities, but would be aesthetically pleasing as well.
We also partnered with Envision to print braille overlays for our QR code badges and accessibility panel. Blind and low vision visitors, many of whom depend on QR code technology to provide them important information, could access museum content through accessible websites.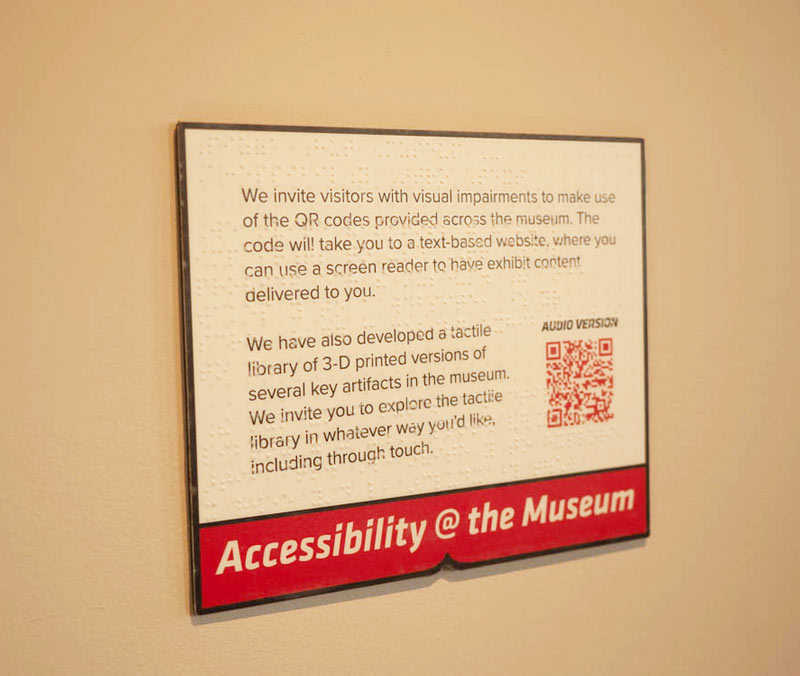 There are so many upsides to designing with accessibility in mind. Here's an especially rewarding one:
An accessible museum is better for everyone.
When we design for accessibility, we create a halo effect, one which may well answer the needs of visitors we didn't know were needs in the first place. Designing for appropriate space in the museum for wheelchair access, choosing to feature always-on captioning, or allowing visitors to control when a video begins, or positioning buttons so folks of all heights can push them, or creating simple, readable companion websites, or working in a tactile library full of 3D prints of artifacts can create meaningful, impactful moments for all kinds of visitors. It means folks of different abilities and walks of life can positively engage museum content. For instance: visitors on the autism spectrum may well struggle with loud or surprising noises and learn better through tactile engagement. Video choice and a tactile libraries may provide a better experience for that visitor, even though we designed those elements with the needs of the visual impaired visitor in mind.
We're proud of what we accomplished at the Pizza Hut Museum, and we can't wait to apply what we learned to our future exhibit projects.